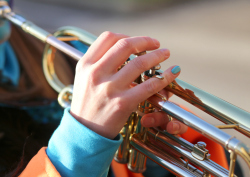 A well-known minister I grew up listening to, the late Dick Joyce, once said to me, "Jennifer, put the trumpet to your mouth!" I knew he wasn't calling me out to pick up a new instrument. Instead, he was urging me to speak. I had something to say that needed to be be heard, but a lifetime spent hiding as "the shy girl" kept me silent.
Later in life, when opportunities arose for me to speak in conference settings and workshops, I felt so passionate about what I had to share that I somehow overcame my fear of public speaking, finding incredible freedom in finding my voice for the first time.
So while I'd known for over half of my life that I would write a book someday (as you already know if you read part one of this blog post, for most of that time I had no idea what the subject matter of my book would be. As the years ticked by and my desire to write a book never waned, I didn't want to write just any book. It wasn't until I walked through the first two years of my own personal nightmare (only to come out the other side as a health and wellness coach) that I felt I had something to offer the world.
Launch Your Dream Book
It was May of 2014 and I had the opportunity to be a part of the first "Launch Your Dream Book" writing group through the Institute for Integrative Nutrition. I was ready to go for it and, with full permission from Peter, I was going to tell our story. Or at least that was my plan until one week later when our story took a drastic turn and Peter's life here on planet earth came to a sudden end.
When Peter died, I felt like the wind was knocked out of me. For a while I tried to continue writing my first book and I even spoke at a conference just a few months after his passing, but it was a struggle. My brain wasn't quite functioning at full capacity as I attempted to process my grief. It was difficult to string words together at times. And since my dear children needed all that I had to give, I felt the need to lay down my career, my humble following, my book, and many of my dreams. In doing so, however, I also lost my voice.
You see, I was a pastor's wife for sixteen years. My late husband, Peter, was a dynamic worship leader, a captivating speaker, and a pillar in every community we called home. I often referred to him as a "Pied Piper" as he easily managed to have loyal following everywhere we lived. Unlike me, he didn't shy away from the spotlight afraid of what people might see or think. He was bold and he was brave and he was pretty darn entertaining, too.
With Peter now gone from my life, I lost my courage. I lost my motivation. And I lost out on the opportunity to complete my book writing program. It seemed as though launching my dream book would remain just that--a dream.
May 2017: Book Writing Attempt #2
Three years passed after my failed attempt to write my first book. I remarried, moved three times and doubled my family size. To say that life was full would be a grand understatement. It seemed as though there would now never be a good time to write my book.
As time seemed to fly by and I became more settled into my new life, I noticed that I was forgetting what I had been through in small ways. I was forgetting what it felt like to walk through my own "dark night of the soul" and, worst of all, I was forgetting those who I knew were still battling their way through a situation similar as my own. I couldn't shake the feeling that I had a responsibility to share a message hope and provide guidance to those who still suffered silently in the shadows.
It was time to put the trumpet to my mouth.
So when the opportunity to once again participate in IIN's "Launch Your Dream Book" program came up, I felt compelled to give my book another chance. I knew that June was a terrible time for me to start writing a book. With six kids home from school for the summer, I would have almost no time to myself at all. But even still, with my husband's vow of generous support, I threw out all reason and took the leap. I had never felt such an urgency to write my book and share my message as I did then.
After five months spent mostly locked away in my bedroom with my two faithful supporters (my black Chihuahuas, Pepper and Pocket), I somehow managed to write a book. The process was so fast and hard that I still can't believe I was able to pull it off. I won't lie; it was a painful and costly process (something I will share more about later). But I absolutely don't regret any of it.
Publishing 30 Days to Thriving has been my way of finding my voice again. And apparently I have quite a lot to say because my initial plan to write a short, simple first book turned into a manuscript that far surpassed 300 pages (we trimmed it back to a final count of 296 pages). Even still, I know that the birth of this book is just the first of more to come. I'm not sure yet when I'll find the time to publish my next book, I only know that I have more in my heart to share that I hope will encourage others to take steps towards a thriving life no matter what situation they may find themselves in.
Although it isn't easy by any means, the more that I speak my truth, the more I feel an assurance that I'm stepping into my life's calling. It's my hope and prayer that, in so doing, the sound of my trumpet will be heard by those who need to hear it most.



P.S. To make it a little easier for my voice to be heard by those of you lead full lives like I do, today I'm able to offer 30 Days to Thriving as an audiobook on Audible by clicking here!